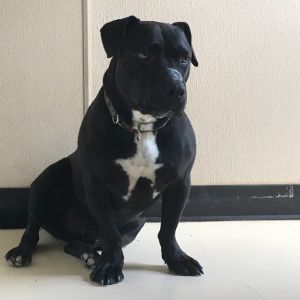 Basset Hound, Pit Bull Terrier
Spayed/Neutered
Colonel Mustard is one of the coolest dogs you will ever meet! He is affectionate, sweet, playful, strong and loves to go on adventures. Colonel has come a long way with trusting people and making connections. Now this hunk is all about love and belly rubs! He is working on basic manners and commands and will continue to do so until he finds his forever home. Colonel knows sit, down, wait, stay and come. He is also continuing to learn how to walk politely on a leash. Colonel gets very excited when he greets people (especially kids, which he loves) and is doing really well controlling his excitement by listening to commands such as sit or down. Although Colonel can get along with other dogs, he may do best in a home as the only animal. It is possible that with the right dog and a very slow introduction that he may just find a new canine pal who he'd like to live with. If you have a playful and active family Colonel would love to join it, he is around 2-3 years old and ready for his new home with you!
Adult, Male, Large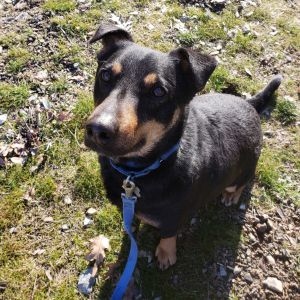 Terrier, Dachshund
Spayed/Neutered
Up-to-date with routine shots
Jacques was transferred to us from another local shelter. He is a smart and playful young lad who loves scratches and belly rubs. Jacques has been doing excellent with his training. He knows the sit, down, wait, stay and come commands and will politely walk on a loose leash. He can be a little bit of a rascal when it comes to fences and likes to bark at dogs walking by. We have been working on helping him keep calm when he sees other dogs, cats or taunting squirrels since he can get quite riled up. Jacques would do well in a quiet and calm home where he can relax and feel comfortable. We are continuing his training and hope that a family will come along who is just the right fit for this boy!
Young, Male, Small