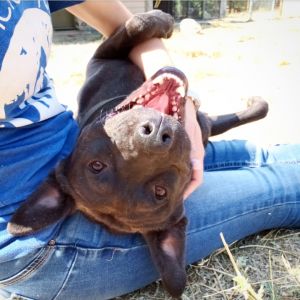 Labrador Retriever, American Staffordshire Terrier
Diego is a sweet and affectionate young boy! He loves playing fetch and loves to give kisses to people of all ages. He would be great for a family with a medium to high level energy level who loves to enjoy the outdoors. We recommend no children under 7 because he is still learning manners and leash skills. We also recommend no houses with cats but other than that he's good to go! Come meet Diego today!
Adult, Male, Medium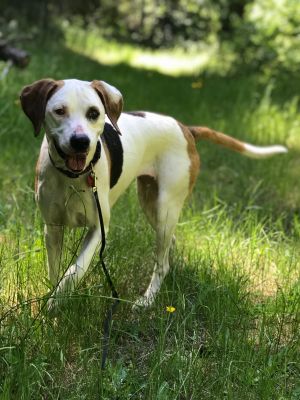 Hound, Mixed Breed
Spayed/Neutered
Spayed/Neutered
Up-to-date with routine shots
Dory is darling hound mix seeking a forever home with an active family. She's had a rough go of it being in and out of shelters for a while. When she first came to the shelter her skin was bald and raw from flea allergies and infections that went untreated before hand. She's all healed up now thanks to lots of TLC from many caring shelter workers and has a beautiful easy to maintain coat on low allergen food. She's also had chronic eye infections that have left her eyes a little clouded, but she can still see well. This sweetheart is also deaf. Despite her inability to hear, she responds very well to visual signals and is eager to please. She LOVES to be around people and dogs, and loves lounging around wherever her humans are. Her dream home is one with a big well-fenced yard, no cats or small animals, and a family that will take her regularly out for her favorite activity - hiking! She knows her perfect forever family is out there, she'll be waiting for you!
Adult, Female, Medium